A contagious smile, a clutch of ruffled hair and a pair of gifted hands & legs added with supreme musicality are the prominent features of teen drummer SAMBIT CHATTERJEE — a rising star in the world of music.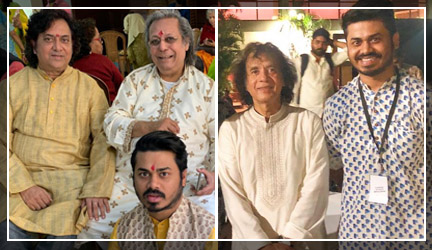 Sambit now endorses MEINL cymbals. For his artist profile please check it out at : http://meinlcymbals.com/artists/Artist/show/sambit-chatterjee-899
His acquaintance with rhythm began at age three, as a "dhaak specialist" (DHAAK is a traditional drum from eastern India) during Durgapuja at home. He has been training in the tabla with his father, tabla exponent SUBHEN CHATTERJEE, ever since. Also a talented singer, Sambit has worked at Rabindra Sangeet with his mother (SUTAPA CHATTERJEE) . Since then his favourites range of influences lie from MIKE PORTNOY, PANDIT SWAPAN CHOWDHURY (his father's GURU whom he fondly call "TABLA DADU") to USTAD ZAKIR HUSSAIN to Nazrul Geeti and Rabindrasangeet. Sambit has also been highly influenced by percussion wiz SIVAMANI with whom his father has formed another unique rhythm ensemble, called FRIENDS OF DRUMS way back in 2002. "I was more of a tabla player & a vocalist back in junior school," recalls Sambit. "I never could imagine playing the drums one day!" he smiles.
This story needs a rewind to a fest at Don Bosco School (Kolkata)in 2004, for which Sambit was coaxed by friends to audition as the drummer for the school band. "I had never played on a drum-kit before and obviously did not know how to play the thing! I mustered courage and went up for the grilling session — and obviously, I did not qualify," he explains.
But that was the spark that gave Sambit the necessary determination to bang some drums. "I didn't let this incident shatter my confidence. Instead, I came home and downloaded (Dream Theatre drummer) Mike Portnoy's lesson video : "Progressive Drum Concepts " and lived by it for a week. A week later, I returned to school and requested for another shot at auditions," says Sambit with a smile. "They took me in!" Portnoy, of course, remains his favourite drumming hero.
Equipped with a very professional drum kit, Sambit says things weren't easy — especially dad being dad. "My father wouldn't give me things right away; he would test my patience. I learned that if you don't love something insanely, you don't deserve it!" says Sambit. After having worked incessantly at his drumming, Sambit's best reward came when dad was pleased enough with his performance to praise it & considered him as one of the members of his fusion band: KARMA way back in 2007. From then on SAMBIT plays an integral part in his dad's all BANDISH FUSION projects ( live shows, recordings etc).
And now....SAMBIT is quite a name in India as one of the finest young drummers ...he has already baggged "BEST DRUMMER" awards in almost all College Fests ( incidentally ..He is now a Mass Com student of St. Xavier's College, Calcutta) & also became the finalist of MTV's "ROCK-ON" music contest lately.

SAMBIT's KIT: